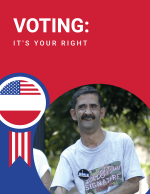 Voting: It's Your Right is a guide about voting rights and the voting process in New Jersey written in clear language for people with intellectual and developmental disabilities. The updated 5th Edition, available electronically in English and Spanish, provides readers with information on:
Registering and preparing to vote
Options for voting by mail and in-person
Voting rights and accessibility
Contacting election officials with questions
Voting: It's Your Right was developed by The Boggs Center on Developmental Disabilities, Rutgers Robert Wood Johnson Medical School, in collaboration with New Jersey's Developmental Disabilities Network Partners, Disability Rights New Jersey and the NJ Council on Developmental Disabilities. It was funded by Disability Rights New Jersey's Protection and Advocacy for Voter Access (PAVA) from the Administration on Developmental Disabilities, Administration on Children and Families, US Department of Health and Senior Services.

Download guide – English (PDF)
Download guide – Spanish (PDF)

Limited quantities are available in hard copy format through the Publications Order Form.