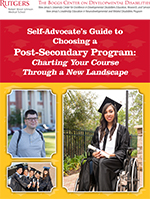 Self-Advocate's Guide to Choosing a Post-Secondary Program is a guide for individuals with developmental disabilities and their families who are considering post-secondary education. Due to the efforts of self-advocates and their families, there is a national trend to provide more pathways for college participation for students with developmental disabilities. The result is a related increase in the number of programs available here in New Jersey and nationwide. This guide is designed to assist students and families in the process of exploring and evaluating these programs in order to determine which college experience is right for them.
Download guide - English (PDF)
Download guide - Spanish (PDF)

Limited quantities are available in hard copy format through the Publications Order Form.