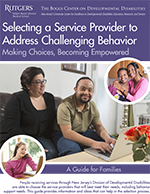 Selecting a Service Provider to Address Challenging Behavior: Making Choices, Becoming Empowered is a guide for family members of people with developmental disabilities receiving services through New Jersey's Division of Developmental Disabilities. The opportunity to select a provider that will best meet needs for support can be empowering for people with developmental disabilities and families. This guide provides an overview of supports available to address challenging behavior and resources to help select a service provider that will best meet your family member's behavior support needs.
Download guide – English (PDF)
Download guide – Spanish (PDF)

Limited quantities are available in hard copy format through the Publications Order Form.