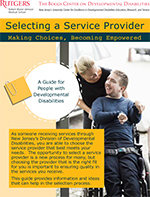 Selecting a Service Provider: Making Choices, Becoming Empowered is a guide for people with developmental disabilities who will be or already are receiving services through New Jersey's Division of Developmental Disabilities. The opportunity to select a service provider is a new process for many, but choosing the provider that is the right fit is important to ensuring quality in the services received. This guide provides information and ideas that can help in the selection process.
Download guide – English (PDF)
Download guide – Spanish (PDF)

Limited quantities are available in hard copy format through the Publications Order Form.