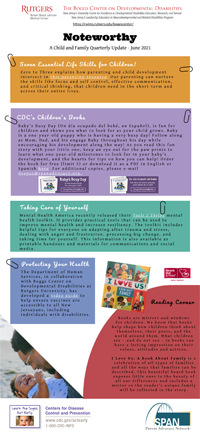 Noteworthy is a quarterly newsletter produced by The Boggs Center in partnership with the SPAN Parent Advocacy Network as a part of a Learn the Signs. Act Early Response to COVID-19 grant-funded initiative of the Centers for Disease Control and Prevention (CDC) and the Association of University Centers on Disabilities (AUCD). The goal of the project is to bolster the 4 steps of early identification of developmental delays and disabilities:
parent-engaged developmental monitoring;
developmental and autism screening
referral; and
receipt of early intervention services for children birth to 5, across early childhood systems.
Additionally, the project aims to advance the promotion and distribution of existing, relevant tools, materials, and programs to improve resiliency among families with young children during COVID-19 response and mitigation efforts.
Each Noteworthy newsletter highlights an Act Early resource, shares an important health tip, suggests activities to support resilience among children and parents, and features a book that parents and children can read together.
Issues:

Download newsletter – June 2021 (PDF)
Download newsletter – February 2021 (PDF)
Download newsletter – November 2020 (PDF)