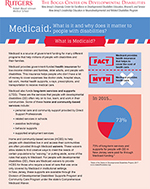 Medicaid: What Is It and Why Does It Matter to People with Disabilities? is a fact sheet that explains the importance of Medicaid as a source of government funding for programs that help millions of people with disabilities and their families nationwide. Readers will learn about:
what Medicaid is
how Medicaid works
commonly proposed threats to the Medicaid program and potential impact in New Jersey
resources to learn more about Medicaid and stay informed about proposed changes
Download fact sheet - English (PDF)
Download fact sheet - Spanish (PDF)

Limited quantities are available in hard copy format through the Publications Order Form.